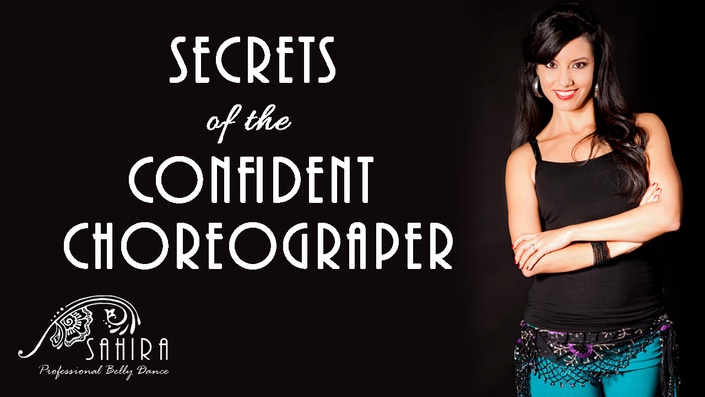 Secrets of the Confident Choreographer
A comprehensive guide to creating your own dynamic belly dance choreography
Watch Promo
Have you ever attempted to create your own choreography? Almost every dancer at some point in their life attempts to put their own movements to the music. If your experience has been anything like mine, this process is harder than it looks!
I bet you've been there - music ready with pen and paper in hand, only to find yourself frozen in place desperately trying to remember a cool move or combination that you know. Or perhaps you've successfully choreographed before, but now find yourself stuck in a cycle of repetition that is boring you to death.
I would like you to imagine being able to create your own dynamic dance choreography confidently and joyfully without worry or self doubt. Imagine at the end of six weeks walking away with not only the knowledge that you need to create many choreographies now and in the future but also a finished dance composition that is completely and uniquely yours.
Welcome to "Secrets of the Confident Choreographer" - a six week course that will take you comprehensively from start to finish to create your own unique and dynamic choreography.

In this course we will walk through the process together - from choosing and mapping music, selecting movements and beyond. We're going to be dancing and experimenting...trying on different movements, emotions and ideas. I promise you it will be a lot of fun and even kind of silly at times! We will explore concepts like stage usage, levels, floor patterns, emotions and theatricality - all the things that add depth and pizzazz to your piece. We will also spend time troubleshooting and working through problems that come up as we journey through this course together.
---
"I loved it. I loved that I was able to do this when it was convenient for me, and I could go back and rewatch if I needed more understanding of the material. I loved that there was discussion, written visual examples and demonstrations, that helped me visually understand. I absolutely adored that you had one on one interaction with all of us. I knew you were there rooting for my success, instead of wondering if the instructor knew or cared that I was there. The information I recieved, and the explantation of that information were very easy to follow and just what I needed in order to wrap my head around this new concept that I was undertaking. It was perfect for me. Thank you for creating this course."
- Gini B.
---

What to Expect
We will be working through this course in real time over the next six weeks which will keep you on task and accountable.
Weeks one and two will be open to you upon registration. You will have two weeks to choose your music and map it before week three will come online. In those first weeks we will also get to know one another online through our class Facebook group. This is an amazing opportunity to connect with other dancers who are all on the same journey. There will be opportunities to ask questions and bounce ideas off one another there on a regular basis.

At the end of the second week, week one and two will be taken off-line and week three will be released. One week after week three is released, it will be taken down and week four will become available. During weeks three, four and five we will be in the studio exploring about a dozen different ways of approaching our choreography creation. Each one will be explained and demonstrated by me as I participate in the process with you. We will look at layers in our music, how to choose movement, emotional content, traveling, stage usage, repetition and even using existing combinations in your vocabulary authentically with your music.

In week six I will help guide you through road bumps and creative blockages that you are experiencing to help you confidently finish your choreographic masterpiece! (It's always those last few 8 counts that are the hardest, isn't it?)

Each week there will be specific tasks to complete and "assignments" to post in our Facebook group in order to keep you moving through the process.The course even comes with a built in 30-minutes of private lesson time with me to work on your trouble spots specifically.


Who can take this course?
This course is for you if:
You're new to choreography and would like to give it a try but don't know how to begin
You have tried to create your own choreography and not succeeded for whatever reason
You have choreographed in the past, but find you have lost the joy or inspirational spark in your process
So if you've been waiting for just the perfect moment to finally materialize your personal dance vision - this is it! And if you've been choreographing for several years now and find yourself kind of stuck in a rut - I get it. I've been there.
I have spent the last 20 years of my life choreographing for soloists and for troupes across several different genres of Belly Dance and I'm really excited to share with you what I have learned through trial and error, success and not-so-successful and lots and lots of studio time.
This course maybe just what you need to help you gain new insight and inspiration to allow you to express yourself through this beautiful dance form.
By the end of these six weeks, you will have the knowledge you need to confidently build your own choreographies now and in the future. No more relying on others to place their creative ideas on your dance...you will be able to translate your own vision into reality on the dance floor.
Welcome to "Secrets of the Confident Choreographer".

---
I can't rave enough about Secrets of the Confident Choreographer, and about Sahira. Through this course, she helps you see the choreography process in a whole new (and much more organized) light. She is there for you every step of the way, from choosing your music to polishing your final product. I loved the weekly lesson system as well. It keeps you focused and accountable. This is not a course that you buy and put off completing for years (we've all done it). This system makes it a breeze to invest just a couple hours a week into your dance and you come out with a dazzling choreography that is all yours. It's a wonderful feeling!
-Ashley R.
---
Course Syllabus
Week One: Choosing Dynamic Music that Compliments Your Choreographic Needs
Week Two: Mapping your Music to Create a Framework for Your Dance
Week Three: The Shotgun Approach, What versus How, and the Four Layers of Musical Inspiration
Week Four: Intention and Emotional Content, Internal/External, Travel/Stationary, Stage Usage and Repetition
Week Five: Tips, Trick and Hacks and Notating Choreography
Week Six: Questions and Answers via live group call, Personal Feedback and What to Do When You Get Stuck
Additional Resources
A private Facebook group dedicated to current "Secrets of the Confident Choreographer" intensive students to be used for discussion, inspiration and sharing. We will be regularly posting progress and ideas in this forum if you chose to join (though no one is require to share their choreography unless they'd like to!)
A "Choreography Creation Guide" that include the information used in the course will be available for download.
Discounted private lessons will be available to all intensive students working on their choreography project for the duration of the course. A 30-minute private lesson is included with the course, and extra one-on-one time can be purchased for $50/hour.
Your Instructor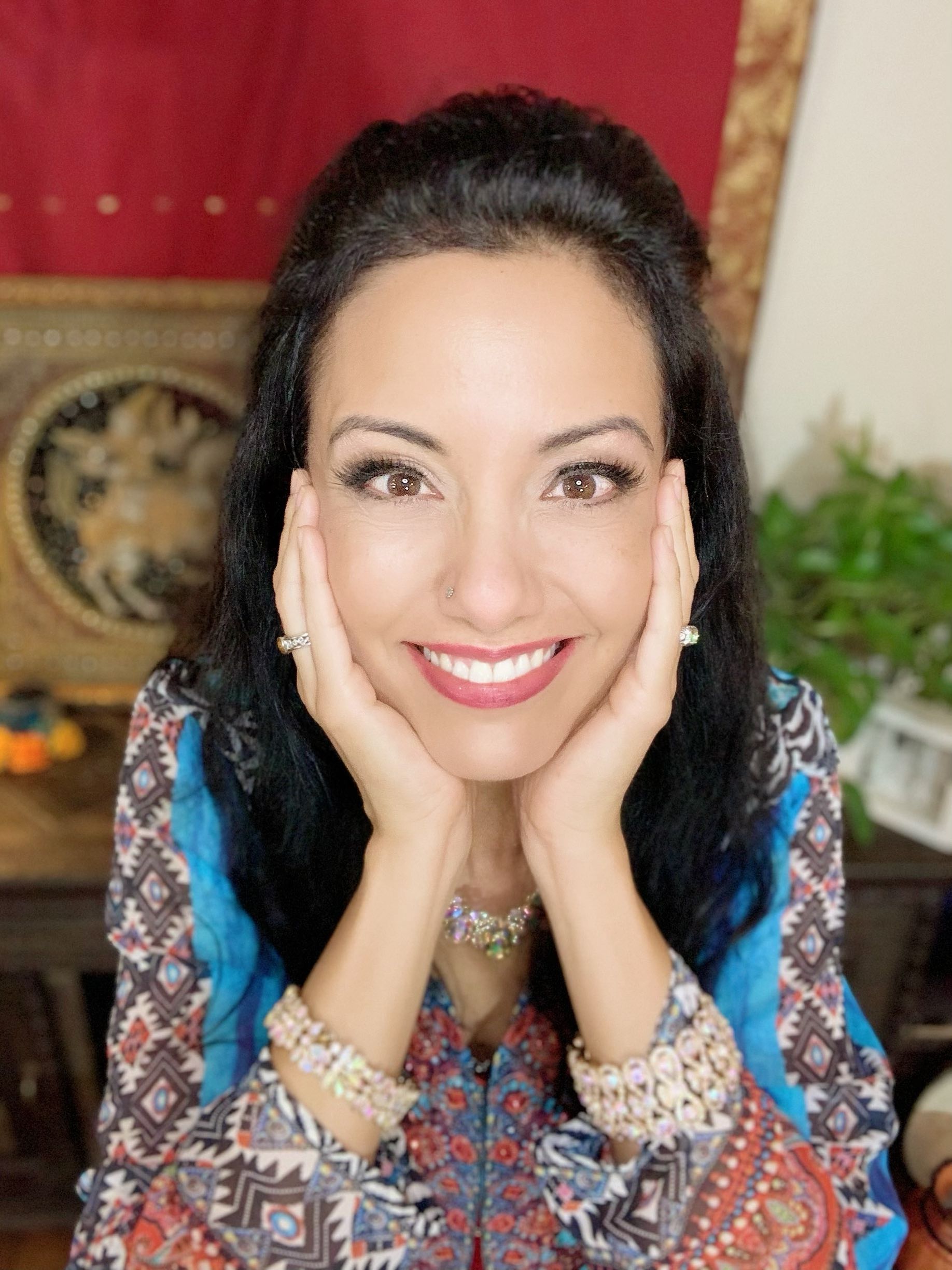 Well hello there, fabulous dancer! I'm Sahira. 👋🏽
I'm a life-long performer and have dedicated the last 21 years of my life to empowering others through the beautiful art of Belly Dance. I am a lifelong musician and head over heels crazy about the finger cymbals. I am a self-proclaimed technique and music geek, love anything to do with bunnies and could live off of spicy Szechwan food for the rest of my life.
I also direct the BellaDonna Dance Company, voted Houston 's Best Belly Dancers by the Houston Press and am founder and director of Houston's premiere Tribal Style troupe, Urban Hipsy.
I love belly dancing! Seriously… I did not ever set out to be a professional belly dancer, but since dedicating the last 21 years of my life to it, I cannot imagine doing anything else. I was an engineer by training before starting my first belly dance class – which just goes to show that anyone can learn this beautiful dance!
What I love best about teaching – and I've had the opportunity to work with students all over the world – is watching a student grow into their dance – from that first "ah-ha" moment, to seeing them dance with a confidence that they never thought they had. This dance is so wonderfully empowering and can be enjoyed by every body.
I look forward to sharing the dance floor with you soon!
Course Curriculum
Choreography Tips, Tricks and Hacks PDF
Available in days
days after you enroll
Other Goodies
Available in days
days after you enroll
Frequently Asked Questions
When does the course start and finish?
The course will begin on January 27th and will run for six weeks until March 9. We will be working in real time, which means each week a new lesson will be released and the previous lesson will close. This method has proven to help keep everyone on task, as you'll need to complete each weeks lesson before that week is over. In this way we can guarantee that you will have your choreography created before the course is through!
How long do I have access to the course?
The course will run from January 27th until March 9th at which time the class videos will no longer be available. But don't panic! You will have the choreographic process in hand through experience before the end of the intensive and you will be given a downloadable PDF that will outline the process for you to use in the future.
What if I am unhappy with the course?
We would never want you to be unhappy! If you are unsatisfied with your purchase for any reason, contact us in the first 7 days and we will give you a full refund.
This course is closed for enrollment.